Kenya: 'Unwanted choice of spy chief'?-Ruto will have to work with spymaster Philip Kameru, who was among top security bosses President-elect allies accused of plot to rig poll in favour of opponent Raila
On November 11, 2021, People Daily reported
Ruto allies claim State plot to aid Raila
Politicians allied to Deputy President (DP) William Ruto have alleged a scheme by top security agents and their bosses to rig 2022 presidential elections in favour of Opposition leader Raila Odinga.
Falling short of announcing a boycott of the 2022 polls, the legislators allege that rigging plans involving security forces to aid ODM leader to win the presidency are underway. The lawmakers are training their guns on Interior Cabinet Secretary Fred Matiang'i and his principal secretary Dr Karanja Kibicho.
Others targeted are Director of Criminal Investigations (DCI) George Kinoti, Inspector General Hillary Mutyambai and National Intelligence Service (NIS) chief Philip Kameru.
In a sustained attack on  Matiang'i and Kibicho, Ruto's allies maintained theduo was using their offices to support Odinga.
July 15, 2022 kenya.co.ke mentioned 8 powerful figures, including spymaster Kameru, who would stay in power after Uhuru retires.
As President Uhuru Kenyatta prepares to exit office in August, he will leave behind eight powerful civil servants who will continue serving the next government until their terms in office are over.
These eight figures are not affected by change of guard at the presidency since they are protected by the Constitution.
Maj Gen Philip Wachira Kameru
Gen Kameru is the Director General, National Intelligence Service (NSI).
NIS is a disciplined civilian intelligence agency established under under Article 242 of the Constitution. He is responsible for security intelligence and counter intelligence, besides performing other functions prescribed by national legislations.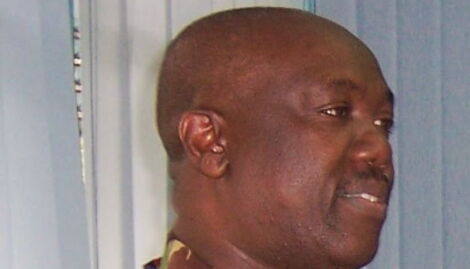 NIS Director General, Major General Philip Wachira Kameru
Kameru was sworn in in September 2014 and has provided outstanding leadership in Kenya as the mastermind behind the success of Kenya Defence Forces (KDF).
He plays a key role in government to ensure safety of all Kenyans and safeguard country from extremism.
See the other 7 here
On August 16, 2022 Al Jazeera recorded:
Transition
Last Friday, the committee responsible for a smooth power transition held its first meeting. Chaired by Joseph Kinyua, head of the country's public service, it comprises a dozen members including National Intelligence Service (NIS) Director Philip Kameru and several other high-ranking public servants.
The transition committee has said it is ready to hand over power to the new president-elect, but friction cannot be ruled out now that Ruto has won. This, analysts say, is because of President Kenyatta's backing of Odinga, using state machinery and top government officials.
"The key members of the committee all have shown a bias towards one candidate, Odinga, whom they drummed support for and attended some of his political campaign rallies," political analyst Nicholas Ouma told Al Jazeera. "With very important power vested unto them, they will have to openly set aside their differences and discharge their duties accordingly."